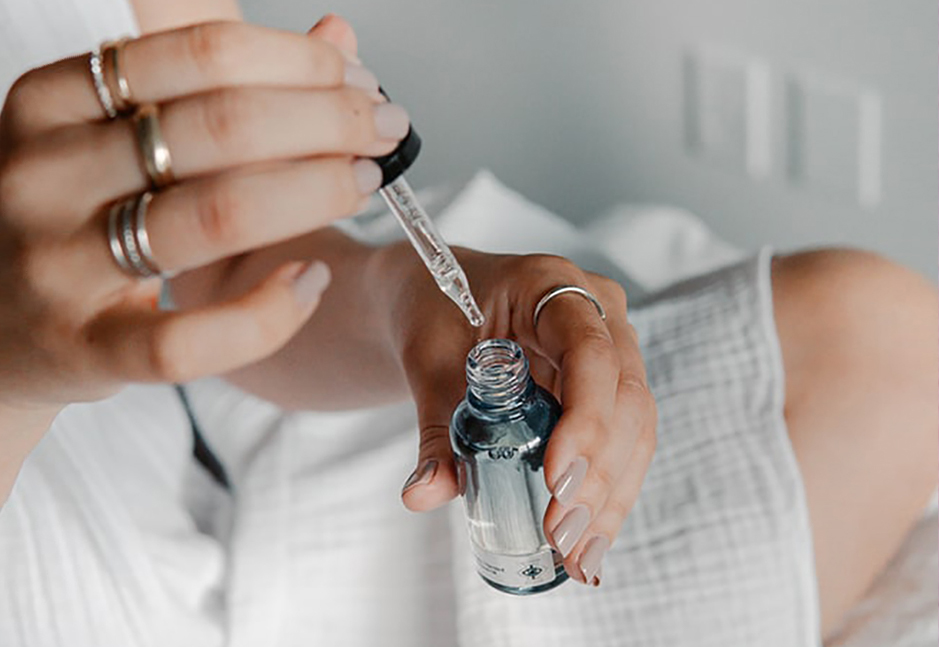 F
amed for its ability to brighten and refine skin texture and tone – as well as reduce the appearance of lines and wrinkles, breakouts and blemishes – glycolic acid is a routine essential, and with good reason. That said, as an active ingredient, a little bit of homework before you introduce it into your regime is a must. Here's what you need to know.
Glycolic acid is a chemical exfoliant that belongs to a family of acids known as alpha hydroxy acids, or AHAs – a term you've probably heard being bandied about in skincare circles. Widely used and derived from sugar cane, other AHAs include lactic, citric and mandelic acids.
What is glycolic acid used for?
Glycolic acid works as an exfoliator by loosening the glue that holds dead cells to the skin's outer surface, the stratum corneum, helping to reveal the younger, fresher cells underneath. "Exfoliation should be a regular part of your skincare routine," advises consultant dermatologist Dr Anjali Mahto. "It gives an instant improvement to the appearance of skin by removing the dull, dry layer of upper skin cells. Superficial exfoliation will not only make the texture of the skin look better, but will also improve age spots and uneven skin tone, as well as allowing better penetration of your serum or moisturiser." Possessing the smallest size molecules of all the AHAs means that glycolic acid is easily able to penetrate into the skin, so it's a hugely effective way to improve cellular turnover. Thanks to its ability to penetrate the dermis – the layer of skin beneath the epidermis where collagen is secreted by fibroblast cells – it helps promote collagen synthesis too.
Is glycolic acid suitable for all skin types?
Glycolic acid is effective when used on normal, combination and oily skin, but sensitive skins should be wary of diving straight in, as it can cause irritation. Just as you'd use retinol sparingly to start with, exercise caution when it comes to trying glycolic for the first time. "Start with a low concentration once per week and gradually build up frequency, then build up concentration slowly depending on skin needs and tolerability," advises consultant dermatologist Dr Zainab Laftah at HCA The Shard. 
Seasonality can also impact how well it's tolerated. "As [glycolic acid] is effectively stripping away the upper layers of skin cells it can make your skin more sensitive to sunshine; using sunscreen is therefore essential," warns Dr Mahto. Happily, for those trying to navigate the confusing world of pregnancy-safe skincare, glycolic acid (in low concentrations) is on the accepted list of ingredients to use – particularly welcome news if you're experiencing hormonal dullness or breakouts. If you do find yourself unable to tolerate it, all is not lost: "Lactic acid is a mild gentle chemical exfoliant and a good alternative for those who are unable to tolerate glycolic acid, or have a history of sensitive or dry skin types," notes Dr Laftah.
What's the best form of glycolic acid to use?
If you're new to this AHA, an easy way to incorporate it into your routine is through a cleanser, which won't come into contact with skin for too long and is quickly washed off. It's also a good litmus test for sensitivity as glycolic acid is immediately neutralised on contact with water. Once you've acclimatised you can move on to leave-on formulations including toners, serums and moisturisers, where concentration will be a little higher. "The ideal concentration used at home is between 8 to 15%," advises Dr Laftah.
While products like cleansers and toners that contain small amounts can be used daily, most people find once or twice week is sufficient when using anything stronger. Higher concentrations of glycolic acid will naturally yield more intensive results and offer an instant skin glow, but these should only be used by professionals. "Glycolic acid can also be used as a medical-grade chemical peel, only available in clinic, in higher concentrations of 30-70%," adds Dr Mahto. "It should ideally be started at low concentrations and built up to avoid skin irritation, particularly in pigmented skin." As well as the concentration, pay attention to the pH of your chosen product; those formulated with a higher pH are done so in order to weaken the acid's strength, and therefore minimise potential irritation to the skin. If the pH of your product sits between three and four then it is guaranteed that the strength of glycolic is as it is stated on the bottle.
Are there any ingredients you should avoid while using glycolic acid?
Although it can be used seamlessly with other AHAs and BHAs, including pore-refining salicylic acid, there are some standout skincare ingredients that should be avoided while you use glycolic. "Due to the increased risk of skin dryness and inflammation glycolic acid and retinoids should not be used simultaneously," warns Dr Laftah. If you're desperate to reap the skin-boosting benefits of both, start using one and work up to tolerance gradually. Once you've established that, introduce the other slowly and only use them on alternate days. The two used together at the same time is a recipe for serious irritation, no matter how robust you think your skin is.
Can glycolic acid harm the skin?
Although it's a gentle exfoliant, as with anything active, overuse can cause damage, particularly to the skin barrier, the skin's first line of defense against harmful pollutants and pathogens. In the winter months particularly, the skin barrier is often compromised by colder temperatures and fluctuating central heating anyway, so caution against being too overzealous with your glycolic, especially if trying it for the first time. If you have overdone it, you're likely to experience dryness, flakiness, redness and irritation. "The good news is [that] this is reversible," says Dr Laftah. "By stopping the chemical exfoliant, hydrating the skin and treating any active inflammation, the skin barrier can be restored."